Ted's Brain Hemorrhage - Latest Updates
On June 29, 2015, the genius health contributor known throughout the world as "Ted from Bangkok" collapsed at his home and was taken to Bangkok's Bumrungaard Hospital. The diagnosis was a blood clot on the brain and he underwent immediate surgery. Ted responded well to the surgery, but he was paralyzed on one side of his body and needed full-time care.
June 8, 20202
Very unfortunately and of deep concern, we have not heard from Ted's sister Nok since 2018 with any more updates about Ted's condition, despite our attempts to call, text and Skype her over the past 2 years. One of Ted's close friends and Earth Clinic have recently come to the conclusion that Ted may have passed on but his family did not want to upset our community by telling us.
If anyone has news about Ted, please send it to Earth Clinic.
Below are the email updates from Ted's lovely sister, Nok, up to January, 2018.
--------------------------
January 10, 2018
"Hello Deirdre,

Thank you for your email.

Concerning your question about does Ted tell us what supplements he needs to help his brain recover, yes, he does. He wanted plant protein supplements and green tea with protein supplements plus he also wanted his own supplements  which we got for him.  Also, EDTA, lingzhu ( I hope I spelled that correctly )  mushrooms and a bunch of other stuff  that he tells us he needs for a faster recovery period. He pretty much tells us on a daily  basis what  he needs to take and what foods/drinks  he cannot eat and drink because it isn't good for his health.  He said that it would take him about 1- 2 years more for him to get back on his feet and resume his normal life. We got a Buddhist Monk to come visit him and he performed a  good health ritual and chanted for Ted to fully recover and sprinkled holy water on him. Ted was happy to get a visit from the monk and showed concern when the monk told him he was a bit sick. Ted gave him health advice and told him what to take so that the monk would recover quickly from his illness. Ted even gave and shared some of  his own supplements and vitamins with the monk so that the monk would feel better healthwise soon (such a kind guy, always thinking about others even though he himself is sick.)."
December 26, 2017
"Deirdre, I'm sorry about the huge delay in reply- so much has been going on and time flew by so fast before I knew it. I was busy with Mother - she had a close brush with death a few months ago- she was extremely dizzy and said the house was going up and down. I took her to the hospital where she was hospitalized for one week as an inpatient and then another week receiving daily injections as an outpatient ( they gave her a blood test and it turned out that she had an infection in her blood. The doctor told me that Mother's treatment had to be constant for two weeks total  otherwise the infection in her blood would be deadly ). Thank goodness she pulled through and she's allright now. 

Right now, I am happy to report that Ted is doing well, especially mentally - he can read the labels on jars now and parts of the letters and Christmas cards that have been sent to him. He can type correctly spelled words and sentences now. His concentration has improved. He still can't write well yet  but  he can type. His speech is clear if he speaks slowly ( unfortunately, he doesn't like speaking slowly - he likes speaking fast and when he speaks fast, his words get slurred and it's diificult to understand what he's saying . We keep having to tell him to speak slowly - there's no need to rush his words. He's still loving to watch the videos that Brian and Charlotte kindly recorded for him. His appetite is very good and he eats a lot - he's a bit chubby right now. He smiles and laughs a lot. He's a delight to be around.

Ted has been having a lot of visitors lately - friends and relatives have been coming with lots of snacks, food gifts, vitamins, health products and Christmas presents. His friend gave him a huge Christmas basket with lots of Ted's favorite snacks. His ex-girlfriend ( from College Days) came with lots of presents for Ted on Christmas Eve. Ted's former work colleagues and College friends also came to wish him a Merry Christmas. He loves chatting away with everybody and giving them health advice. Ted's friends told him to stay positive and to envision himself daily  in perfect heath.

Ted's brain is definitely at 100% capacity and he is as intelligent as he was before he got sick. However, half of his body is still paralyzed - his physical therapists said that former movements on that part of his body would take some time. The physical therapy is helping, though - his arm, hand and leg on the left side of his body are less stiff . He doesn't like the Physical Therapy but puts up with it because he knows it helps him. We took him for a physical check up and the doctor says his health is good but he needs more iron in his blood. The doctor gave him some Iron tablets. Ted no longer has a problem with high blood pressure. His blood pressure has been normal for a long time now, and he is happy about that - we are happy about that, too because before his stroke, Ted had a problem with high blood pressure. Ted told us  that before he fell down due to dizziness ( when he was having his stroke), his blood pressure was 215.  Ted's high blood pressure problems are now a thing of the past."

December 21, 2017
Unfortunately, we have not heard from Ted's sister in many months. We will immediately post an update if we hear from the family. In the meantime, your prayers and good thoughts for Ted are always welcome.
June 06, 2017
Please DO NOT attempt to contact Ted via email or through any cell phone number you might have. We have learned from several of Ted's close friends that Ted's wife and her boyfriend are impersonating Ted (one on his cell phone and one via email), so for the foreseeable future, do not trust any communication you receive from Ted as legitimate. Ted cannot type nor can he speak well. Please do NOT send any money.
Email Updates from Ted's Sister, Nok
April 6, 2017
"Thank you for your e-mail and thank you for sending me the nice post from your reader, Sarah from Las Vegas. I read it to him and he smiled. He said he loves helping people and when he gets well, he wishes to continue doing so. Ted is doing well. He has a great sense of humor and is smiling and laughing a lot lately. He loves to crack jokes, play games and tell funny stories to his caregiver, Midt.  I am happy to tell you that now, when Ted concentrates, he is able to type and spell a few words correctly ( such as the first name of his caregiver, the words "no", "hello", "hot" and a few other simple words. We are very happy to see this progress in him. Also, if Ted speaks slowly ( which is a bit difficult for him as he likes to speak fast, and when he does, his words jumble together making it hard for us to understand him ), he is now speaking clearer than before and we understand what he is saying to us.  However, on the phone, it is still sometimes difficult to understand what he is saying but in person, he can make himself understood more clearer and better than before ( the exception to this is when he is feeling tired after one of his physical therapy sessions, if he's feeling sleepy or when he's talking fast ).

A few days ago, Ted was excited and happy when he found a bunch of new movies from all the movies that Bryan and Charlotte recorded for him. He watched the new movies and especially enjoyed the Hulk movie, the science fiction movies and the movies that had aliens in them. Some movies ( such as the Hulk movie), he insisted on watching  over and over again. Ted's friends, relatives and former co-workers are still visiting him regularly and he always enjoys their visits. He loves visitors. 

Ted's caregiver, Midt, has been growing vegetables and fruits for Ted.. Ted loves the salads, stir fries and soups that she makes for him from the fresh vegetables that she has grown in the garden for him. She has a green thumb and has done an excellent job with growing all the fruits and vegetables in the garden. Ted loves her vegetables and fruits and loves her cooking (she is an excellent cook and makes a variety of dishes for him - he especially loves the meat and vegetables stir fries that she cooks for him often ). Ted's favorite meats are grilled fish and grilled chicken. 

When Ted gets well and makes a total and complete recovery and healing from his stroke (he is positive he will get well and we are positive, too), he has promised  his caregiver that he will take her on a vacation as a reward for her taking wonderful care of him for a long time and, if she is okay with it, he will continue to hire her (not as a caregiver but as a long term maid) as he doesn't want to let go of her because he has grown emotionally attached to her as she is a kind, sincere, loving caregiver. Ted says she is a  "totally wonderful person" and we agree with him."
January 11, 2017
"Ted is doing well but sometimes he is sad about his wife. Lately, he has been enjoying meals of spaghetti, pork and shrimp shu mai , macaroni and dim sum - cooked by his caregiver, Midt.  He talks to his friend, Tuk- Tan often as she is a great emotional and moral support for him, and a wonderful friend. Friends and relatives visit Ted weekly and he loves the social interaction and chats away with his visitors.  They bring him his favorite snacks ( dried fruits and macadamia nuts ) .

Ted's cats continue to play with him and jump on him. The cats are beautiful adults now, and he loves them and pets and strokes them. Sometimes, they sleep near him."
December 13, 2016

"Ted is doing allright. We have decided to increase his Physical Therapy to be 3 times a week instead of the usual twice a week. He has asked for this, and we agree.  

Ted's usual caregiver, Midt, is on a two weeks vacation and will be back on the morning of December 20th. We have arranged for someone to replace her for two weeks. However, Ted loves and misses his usual caregiver very much and they talk on the phone to each other 2-3 times a day.
Nok"
October 24, 2016
"We took Ted to the hospital for his monthly physical check-up. His blood test results came out really well. The only thing wrong with his blood was a low level of potassium, so his doctor prescribed some potassium pills for him.  He was in good spirits while at the hospital, and we gave him a chocolate cherry ice cream cone while he was waiting for his doctor. Lately, he had red spots on his back and on the back of his left arm. He said it was very itchy, and the doctor looked at his red spots and gave him an injection to reduce the itchiness and to help the red spots not to spread further on his body. The doctor also prescribed some allergy pills for him to be taken three times a day, after meals.

Ted is still enjoying watching all the movies that Bryan and Charlotte recorded for him. Yesterday, he was watching a cartoon ( Despicable Me ) - I think this cartoon is his favorite since he insists on watching it often. He also likes the movie about Steve Jobs (the genius from Apple Computers). Ted's friend Tuk-Tan visits him once a week, usually during the afternoons. He loves her visits and they chat for a long time with each other. 

His Majesty The King of Thailand passed away October 13th. When Ted heard the news on the radio, he was very sad and spoke lovingly of The King, remarking about what an amazing, intelligent, talented and compassionate King he was.  He said The King was a Great Teacher, and often spoke wisely during his public speeches, teaching the Thai people how to live. 

Ted's fingers on his left hand aren't stiff anymore, so we are very happy about that - his Physical Therapists are also very happy about that. We took Ted to a famous fortune teller who told him that in three years, he will be allright again - we have  always believed that Ted will make a complete and total recovery."

August 22, 2016
Happy Birthday, Ted!
August 10, 2016
"I have attached four of Ted's latest pictures ( taken at home ) for you. [EC: Please see our facebook page here, where we posted these photos of Ted]
He is doing really well and is talking a lot. Ted told us a few days ago that he is back to his old self again and the only part of him that still needs healing and recovery is his left side ( which is still weak ). His physical therapist has managed to  about 50% undo his once very stiff fingers that were grasping his left hand very tightly in a tight fist grasp. Every once in a while Ted is able to partly undo his left fingers a little bit at will ( we feel that this is a huge progress considering he was totally unable to move his left fingers before by himself ). He can still also move his left toes by himself at will every once in a while as well. In spite of the fact that he still has weakness/ paralysis  on the left side of his body, he is able to  feel pain and he does have feelings on his left side. His physical therapist says this is a  good sign and he is positive that in the future, Ted will slowly regain movement on his left side. We have no doubt whatsoever that Ted will make a total recovery and healing for sure. 
Oh, by the way, the woman in the green t-shirt is Ted's loving and kind caregiver. She has been with him for about 7 months now. Other than Ted's regular physical therapist, she also does physical therapy exercises for Ted on a daily basis ( the physical therapist taught her how to do arm and leg stretching exercises for Ted )."
July 2, 2016
"Ted's brain keeps getting better and better ( if that is possible since he is soo super smart already ). Whenever he hears people having a conversation, he cuts in with his thoughts and ideas about the situation and it's great to hear him talking clearer and clearer ( his sentences are getting longer and it's wonderful to hear him speak in long sentences. He is starting to talk fast now and we have to tell him to slow down - that there's no need to rush his sentences when speaking to us. Our relatives from America came to visit Ted yesterday and remarked on how well he looked and how clearly he spoke. They asked him how he was doing and he said he was allright but he wished his healing process was faster than this - he said he was bored with how his illness was restraining him from going places and doing things on his own. He said the first thing he will do when his phusical capabilities come back is walk several kilos because he hasn't been able to walk on his own since his stroke. He said he missed travelling to different provinces and different countries, he missed working, he missed visiting his friends, former coworkers and his patients, he missed using the internet, and most of all, he missed being in total control of his own life.
He has lots of visitors coming to visit him, and he loves visitors. He loves chatting with them and exchanging ideas with them. Yesterday, he had more than 6 visitors.
His caregiver is an excellent cook and makes delicious meals for him - his favorites are soups and vegetable and meat stir fries ( she makes sure he eats lots of vegetables every day ). She has a great sense of humour and keeps Ted smiling and laughing often. However, Ted is sometimes sad as his wife has distanced herself from him a lot now and rarely comes to see him. When she does come to visit him, she stays for about 5 minutes and then leaves. She called Mother a few days ago and told her that she wants to take Ted to her hometown province. She wants him to stay at a temple for several years because everything is free there, and the monks there know how to do Thai massage. Mother said no. She wants Ted to be at home, near her, and she will take care of Ted herself. However, Tina was insistent that Ted has to be at her hometown province in the near future. Mother was also insistent that Ted be at home. When we asked Ted if he wanted to be in a temple for several years in Tina's hometown province, he got very upset and told us that he would not be safe ( at all ) in a temple in a province very far away from his home, family and friends. He told us to please help him so that she doesn't take him to her hometown province, and leave him in a temple there. His caregiver and our relatives hugged him and we comforted him, and told him we would do our best so that he doesn't end up in a temple in Tina's hometown province
Both Ted and Tina are still insistent on not divorcing each other.
Blessings, Nok"
June 12, 2016
"Ted has been very talkative lately - he is talking nonstop about various topics and it is great to hear him express himself so well. This morning, he told us that his brain is now back to normal and that he knows he is speaking clearer and better than before. We confirmed to him that he is right. He has been asking for soy bean milk and 100%  vegetable and fruit juice  a lot, so we let him drink it daily. He is also asking for his own medications, which we give to him whenever he asks for it. Yesterday, he told us that he knows that within 2 years, he will be walking again and his left side will be unparalyzed ( we are hoping and praying that it is sooner than 2 years ). 

Last week, I dreamt that Ted was walking and he was allright. Mother's relatives are also having dreams that Ted is walking. We all believe that this will happen, and that he will experience a complete and total recovery and healing from his brain trauma.  He is receiving physical therapy three times a week, and his caregiver gives him a daily Thai massage, which he loves. He is still watching the movies that Charlotte and Bryan recorded for him, but now he is telling us at the beginning of the movies what the movie is about, how he feels about the storyline of the movie and how the movie ends. 
Ted's concentration, memory, and thinking ability has returned. Now, when someone asks him a question or asks him how he feels about something, he is able to answer immediately. I am happy to report that he no longer repeats himself unless he wants to stress something that he has said. He has been very expressive lately ( which is great ) and  when he hears that someone is sick, he immediately makes suggestions as to what they should take and what they should do to improve their health. When a friend or relative is very sick, he tells us that he wants to visit them so that he can give them his medications and tell them himself what they should do to feel better / recover quicker. He is still very concerned about others health. 
He has two wonderful massage machines which he operates by himself - his caregiver was going to operate the machines for him - he said no, I'll do it myself. She said, " You can remember how to operate these machines ? " He said yes, and proved it by operating the machines by himself. 
He loves eating lots of vegetables - he said they're good for his health. His caregiver makes him vegetable stir fries every day.  Ted's caregiver says it is a pleasure to take care of someone so gentle, kind, smart and loving - when Ted's caregiver is feeling unwell , Ted gives her a gentle backrub and tells her she will be okay. He tells her which of his medications she should take to feel better. He tells her to lie down and take a nap so she can feel better.  
Many blessings, Nok"
May 8, 2016
Email from Ted's sister Nok:
..."Ted will be back at the state owned nursing home soon - Uncle only got a temporary leave for Ted so that we could get him to the hospital for his plastic reconstructive skull surgery.  His surgical wound is healing nicely and his head is no longer dented from having no skull there previously. We told Ted that he would be back at the state owned nursing home soon, so he is aware about that ( Uncle says the daily  intensive physical therapy sessions there are really good because he was present during some of the sessions and he said the physical therapists over there are well trained and professional ). We are hoping to get Ted back home with us after he completes his stay at the state owned nursing home. 

Unfortunately, Ted doesn't have a cell phone near his bed. All three of his cell phones  are with Tina. She doesn't allow him to make or take calls from anyone. Anyone who talks to Ted has to pass through her - and she sometimes doesn't answer calls from people who know Ted.. She cancelled his previous cell phone numbers, and bought one new cell phone number for Ted so that he could play YouTube music on it. 

Ted does have a surgery bill from the hospital, but it is only a small amount because the government is paying for most of Ted's medical bills since Tina registered him as a disabled/ handicapped person.  Disabled Thai people have the financial  medical help from the government concerning surgery/ medical bills..."
March 30, 2016
"A couple of days ago, Ted received his third stem cell injection ( through i.v. ) Doctor says these stem cells are to boost Ted's memory and help his brain become the way it was before the stroke, spinal infusion and so that Ted's left leg, left arm and hand will not stiffen anymore. We told Doctor that there's nothing wrong with Ted's memory or brain because he has excellent memory and is still very smart - Doctor says the stem cells are to help so that Ted will not have problems later on with his memory or intelligence because the stem cells will replace the brain cells that were damaged because of the stroke. Doctor is a good friend of Ted and when he found out about Ted's stroke, he immediately wanted to help. Ted was in a good mood during the stem cells injection and happily chatted away with Doctor and two nurses that accompanied him. After the stem cells injection, Doctor and two nurses enjoyed continuing to chat with Ted for a while before they left. Uncle and relatives are still visiting Ted often, as well as Ted's friends, former co workers and former students ( Ted was a University Professor for about a year and had many students - he taught Computer courses at a nearby University ).
Yes, Tina is still planning to take Ted to her parents place. We are trying to convince her not to do so, as Ted is much better off in Bangkok, where his family and friends are, and where capable doctors and medical equipment are at.
Blessings,
Nok"
March 15, 2016
Hello Deirdre,

We arranged for Buddhist monks to visit Ted and do long chants for his good health, recovery and protection. The Head Monk was kind enough to also pay a visit to Ted. He placed his hands on Ted's head and gave him a special blessing. The Head Monk has the ability to see spirits. He told us that he could sense Father's spirit along with grandmother and other relatives spirits surrounding Ted. He said he could feel their concern for him. We asked the Head Monk if Ted would recover and he said yes but that it would take some time. We will keep arranging for Buddhist monks to visit Ted and do special chants for him. Ted likes it when the monks visit him and give him blessings. During the chants, I could see that Ted's left toes were moving. I saw this  about 2-3 times.  I was delighted to see this. 

The state owned nursing home put a soft hand holder on Ted's left hand so that Ted's left fingers don't grip into a clutch. They also got a sling for him so that his left shoulder won't hurt. Ted's foreign friends visit him regularly. He has lots of foreign friends. Uncle visits him as often as he can. 

The nursing home allows us to take Ted out for rides and to go places so long as we ask their permission first, but we have to take Ted back by evening. Ted likes to go out. 

Mother calls Ted on the phone 2-3 times a day. Ted always tells her how he's doing. 

The caregiver chats and laughs with Ted a lot. She told us she's very fond of him, and that he's sweet and gentle. 
Warm Regards,
Nok
February 26, 2016
Hello Deirdre,

Me, Mother's Friends and Relatives visited Ted a few days ago. He was sitting on his bed and happily talking with his caregiver when we arrived.  She was giving him some of his favorite snacks and  both Ted and her were enjoying the crunchy snacks. When Ted saw us, he told us he just had his physical therapy session and his whole body was aching. The caregiver told us it was an intensive physical therapy session, where they got Ted to do a lot of arm and leg movements. She said the nurse had already given Ted medicine to relieve his aches and pains. Ted told us he enjoyed the day's activities ( they got him to play games where he attached pictures together ) and the speech therapist over there encouraged him to talk a lot ( he told the therapist about his trips to Singapore, Indonesia and other countries ). Ted is still telling us that he misses his Mother very much and wants to go home. He kept saying over and over again, "There's no place like home."  The caregiver called up Mother so that Ted could talk to her, and Ted told Mother on the phone that he missed her, wanted to see her and wanted to go home. He told Mother on the phone to please come and get him and take him back home.

Mother's Relatives put Ted in his wheelchair and took him around the nursing home a few times. After about half an hour, Ted got tired and asked to be taken back to his bed. 

We will visit him again soon.
February 15, 2016
Hello Deirdre,

I and my relatives went to visit Ted at Sirinthorn Nursing Home a few days ago. He is in Bed Number One ( Men's Ward ).  As you enter the door, he is on the far left  side. When he saw us, he cried. He kept saying he wanted to go back to Mother's home. He has his own Private Doctor and Private Nurse. He has a daily Physical Therapy session at the Nursing Home for an hour a day. The Nursing Home has activities for him to do, such as throwing and catching balls, Memory Games and they have a Speech Therapist who helps him to speak clearly and encourages him to speak ( even without this Speech Therapist, Ted speaks clearly and quite a bit anyway.  We brought him a lot of snacks and drinks (low fat milk, fruit juice drinks, chocolate milk, etc. ) I think he was very hungry because he was happily chomping nonstop on the big fish sticks we bought him. He looked very cute chomping on the big fish sticks.

We were with him for about two hours, and his caregiver told us that Ted fully cooperates during the Physical Therapy sessions and daily activities there. His new friends there told us that Ted is very smart and has excellent memory during the Activities time ( we already knew about his intelligence and excellent memory) .  The staff are already fond of Ted ( we aren't surprised about this ). He gets three meals a day. Yesterday, they made him pineapple soup, and rice congee. He loves pineapples, and his caregiver makes sure he gets pineapples often. Usually, we buy pineapples and his caregiver cuts up the pineapples into small pieces. Sometimes, he eats them fresh but he loves pineapple soup. 

Ted's friends at his former work places and at the University he used to teach at have visited him. They told us that he loves talking and he sometimes tells them jokes. 

There are no shopping centers or mini marts near this Nursing Home, so we have to buy stuff for Ted and his caregiver from outside. There is only the Food Court Building, which is opposite of the Men's Ward building where Ted is at.  There are lots of trees and plants surrounding this Nursing Home. 

Mother calls up Ted and talks to him on the phone on a daily basis. Ted told his Mother that he misses her, and wants to come home. Mother asked Ted what he wanted, so she can buy it for him. Ted told her that he doesn't want anything from her - he just wants to see her and be at home with her. Ted asked Mother if she was okay, and how is her health now. Ted kept telling Mother over and over again that he wanted to come back to Mother's Home, that he missed her and wanted to be with her. 

I will let you know of any further updates concerning Ted.

Warm Regards,
Nok
January 26, 2016
Thank you for all the prayers for safety and protection for Ted. We have forwarded all of your email messages on to Ted's sister. We are not able to provide public details at this time as to why we have asked for these prayers for Ted as we do not want to jeopardize his safety further. However, please know that his life has been in danger, that he almost died two weeks ago, and that Ted's sister and mother are doing everything they can to protect him.
On February 11th, Ted will be going to the nursing home outside of Bangkok as mentioned in a November update below. This is actually very good news as he will receive physical therapy and acupuncture and be in a safer location.
Thank you again for all your loving kindness and prayers of long life and safety to this wonderful man.
January 5, 2016
Ted has been at his mother's house in Bangkok since he left Dr. Torsak's clinic in November. Ted's family has managed to delay his entry to the state nursing home. However, it became very stressful for Ted's mother and sister soon thereafter because every attempt they made to have physical therapy and acupuncture for Ted was immediately nixed by Ted's wife. Because of this, Ted lost every gain he made at Dr. Torsak's clinic within a couple of weeks. :(
Here is an email we received this morning from Ted's sister with the latest update.
Hello Deirdre,
Ted now has a new caregiver/maid. We got her since December 22nd. She's tall and strong. Ted likes her, and she takes good care of Ted. The woman who used to be Ted's caregiver had to go back to her home province, and she missed her children very badly, and her husband as well, so she decided to stay with her family , and take on a new job at her home province, so she could be with her family. We understood, and wished her well. The new caregiver's name is Midt. She gives Ted daily Thai massages. He loves massages.
We got some Thai Buddhist monks to do chants for Ted at home. Thank you for this great idea, Deirdre. The chants had a calming effect on Tina ( Ted's wife ) and the home had a calmer atmosphere due to the chants. The chants also had a calming effect on Ted and his caregiver as well, and put both to sleep. We also got some cd's of Buddhist chants that we played loudly at night, because the monks had to go back to their temple in the evening.
Today, we (finally and successfully ) got a physical therapist into the house who did two hours of physical therapy on Ted's left side. We have told him to come once a week to do physical therapy on Ted. He is a good physical therapist, and Ted likes him, and cooperated with him during the two hours session. Tina was sleeping during Ted's physical therapy session due to the Buddhist chants cd .
Ted's caregiver puts him in a wheelchair and rides him around back and forth in it, and Ted likes that. We are planning to take Ted to the beach soon , but Ted's caregiver wants Ted to be a bit stronger than right now before we take him there.
We found a place near the house, where Ted can get good acupuncture treatments but they have a long queue, so now we are are trying to find an acupuncturist who makes house calls.
Thank you for sending me the post about GABA for stroke patients. I'm not sure if they have it here or not, but I will check it out and see if any stores carry this medication here or not. It sounds great.
Warmest Regards,
Nok
November 25, 2015
After finishing a 30 day stint at Dr. Torsak's famous Bangkok clinic, funded by amazing and generous Earth Clinic contributors, Ted arrived back home this morning at his mother's house. We spoke to his sister about an hour ago. Ted has improvement on his left side, but needs months more of strenuous rehabilitation.

We are sorry to report that unless Ted takes legal action of his own accord, his wife has found him a bed in a free state nursing home 3 hours from Bangkok. He will be placed in a crowded dorm room and have very little access to care, rehabilitation, his wife and his family and friends. Ted will be departing for this nursing home within the next week or two unless he chooses a different course. Ted is fully aware of what is about to happen to him; unless he chooses to divorce his wife, Ted will spend the rest of his life there.

Sadly, we are forced to pause our medical fundraising campaign for him unless circumstances change and Ted decides to stay in Bangkok with his mother and sister. They had found a wonderful new rehabilitation facility for him recently, and had high hopes that he would be continuing his extensive therapy there.

Ted's sister and mother want everyone to know how grateful they are for your incredible generosity and ongoing prayers of healing and support. They are still hopeful that Ted will change his mind.


November 23, 2015
A final payment of $920 to Dr Torsak's clinic has just been made via Wire Transfer. Ted will be released from the clinic on November 24. Many thanks to all who made it possible for Ted to receive care for 30 days at this amazing clinic.
November 17, 2015
Email Update from Ted's sister Nok:
Hello Bryan And All,
I think that is awesome Ms Xanny will visit Ted with some friends. He loves visitors and needs all the moral and emotional support he can get from friends, relatives, coworkers, and everyone who cares / is concerned about him.
I agree that this programme that he's on right now at Dr. Torsak's Hospital is the best place he can be in right now for his recovery/ rehabilitation, and the improvements that have happened to him because of the medical/care treatment at this place are amazing. Before he was treated at Dr. Torsak's Better Being Hospital, Ted was totally paralyzed on his left side, sometimes repeated his sentences, had no feeling on his left side, very bad backache, sometimes babbled, etc. Since being treated at this fine rehabilitation center, Ted does have some feeling on his left arm and left leg now, he does have slight movements on his left arm. left fingers, and left toes now, I hardly hear him repeat his sentences anymore, due to the wonderful acupuncture treatments here, Ted no longer has a backache, I rarely hear him babbling anymore, and he can express himself and how he feels better than before.
I am very impressed with the hospital staff's dedication, care, professionalism and patience they have shown with Ted. In the beginning, he was a bit stubborn and didn't fully cooperate with the activities/ sessions/ treatments that they had planned for him on a daily basis but when he saw the improvements that the medical care/ treatments did for him, he cooperated during each activity/session/medical treatment.
Two nights ago, Ted called mother on his cell phone. He came through loud and clear ( before he was treated at Dr. Torsak's hospital, he spoke very softly on his cell phone when making calls to his friends and family and his voice could hardly be heard on the cell phone - not anymore. Mother could understand perfectly what Ted was saying to her, and she is very happy about this.
I visited Ted a couple of days ago ( and will visit him again in a few days) and he was standing ( with the help of the staff ) in the physical rehabilitation room. They were ( and still are ) trying very hard to get Ted to walk. He can sit for longer periods of time now. Two of the male staff accompanied him into the pool for his aquatherapy session. The staff teaches him to speak clearer, and gets him to do some exercises on his left hand, left arm and left foot during the Occupational Therapy session. The Occupational Therapist also sometimes massages Ted's left hand for him when he says it hurts. The hospital has a really great minivan that picks up Ted at his hotel ( which is near the hospital ) and takes him to the hospital on a daily basis for his sessions and activities, and then takes him back to the hotel when the sessions are finished for the day.
Regards,
Nok
November 10, 2015
Thanks to the kind generosity of Earth Clinic readers, we were able to pay off Ted's entire 30 day stay at Dr. Torsak's clinic! Incredibly, it took only 10 hours to raise the $3,270 needed once we sent out an email about Ted's situation. A total of $5,106 was raised in 12 days by 120 people! The second wire transfer payment has now been received by the hospital.
The remainder of $1,836 plus any funds raised in Round 3 (which started today) will be wired to cover medical expenses when we get the next bill. It looks like Ted will be staying on at Dr. Torsak's clinic after his first 30 days are up. We're awaiting an estimate of the next set of costs.
We'll post details of how Ted is doing during these first 2 weeks at Dr. Torsak's clinic soon.
November 2, 2015
Today's email with the latest updates on Ted.
October 28, 2015

Wire transfers to Bangkok in progress today from our Round 1 Fundraising for Ted (July 30 - October 10). Click here to read details, including invoices and receipts from our first round of fundraising. All funds raised here via Paypal and the remaining amount left from Lottie's GoFundMe campaign are paying for Ted's 30 day stay at Dr. Torsak's famous clinic in Bangkok.
October 26, 2015
We are thrilled to tell you that after 3 months of perservance from Ted's mother, sister and uncle, their lawyer, several of his close friends and one of their lawyers, today Ted started treatment at the top clinic in Bangkok for strokes where he will be a patient for the next month (or maybe longer depending on how much progress he makes during the next 30 days). It has been a long, rough road getting Ted into this clinic but we are so relieved it has finally happened.
Earth Clinic can now resume accepting medical donations for Ted because we can wire the funds directly to the clinic for his care. We are extremely hopeful that Ted will fully recover now that he is receiving treatment at this top facility.
More details to follow.
October 13, 2015
Ted's family finally got Ted home on October 10th! He has a 24/7 caretaker at his mother's home and a new physical therapist visits him a few times a week. The two young cats that Ted rescued from the street for his mother just before his stroke keep Ted laughing and healing. Incredibly, Ted's sister Nok told us that the cats keep jumping up on Ted's paralyzed left side, totally ignoring his right side. This morning, one of the cats bit him on his paralyzed hip, which made him jerk the hip up in the air. This is a very good sign since he's had no muscle twitches on that left side since the stroke.
Yea for cats!
Fundraising for Ted remains paused until he visits a special clinic in Bangkok where they have successfully treated stroke patients. Ted's family and friends have been trying to get him into this clinic since July without success.
Once Ted's treatment commences, we will get a bill from the clinic and be able to pay it with the funds raised for Ted.
October 4, 2015
Deirdre from Earth Clinic visited Ted in his nursing home 60 km from Bangkok last week. Ted understands everything that is said to him but unfortunately needs better physical therapy treatment to recover from total paralysis on his left side. On a positive note, his brain is recovering and he spoke nonstop to Deirdre about remedies during each of her visits to see him!
September 11, 2015
Thank you all so much for your prayers for Ted's mother, Sresaard Napatalung. Her condition is stabilizing and her mood has greatly improved.
September 7, 2015
Urgent healing prayers are needed for Ted's mother, who has been in the ICU the past 9 days with pneumonia. Ted's wonderful sister Nok is at her side 24/7.
Nok updated us that Ted has been eating rice congee, chicken and beef that the nursing home has been preparing for him as meals. He has been eating solid food now and not liquids as before. He has physical therapy three times a week, and a traditional Thai massage every other day.
August 25, 2105
Better news to report: Ted's friend Richard went to visit Ted today and found he had been untied and his feeding tube removed. Ted was started back on solid foods today (protein powder) and some of his supplements have been added. Ted was a little more lucid.
August 22, 2015
Most unfortunately, we have just learned that Ted was put back on a feeding tube, strapped to his bed, and is being given high doses of sedatives. Because of the powerful narcotics being fed into his feeding tube, Ted is only lucid for a few minutes each day.
August 20, 2015
Ted has been moved to another nursing home outside of Bangkok.
August 13, 2015
Ted has been moved to a new care facility in Bangkok called Baan Saen Suk. He is making steady progress - he is communicating more and telling his friends what supplements he needs. He is enjoying sitting in a wheelchair instead of being strapped to a bed 24/7.
July 30, 2015
Ted is currently staying at this home care facility in Bangkok. As of this week, Ted started receiving care from two highly regarded doctors in Bangkok, in addition to the neurosurgeon at the nursing care facility.
Ted is speaking a little (the nursing home is keeping him highly sedated), but unable to move his left side.
July 28, 2015
From Ted's friend Bryan:
"I showed TED the photo image below on my iPhone last night and told him 100s of people were supporting him and wishing him well etc and he seemed to hear that. On seeing the image his first words were: FACEBOOK!!!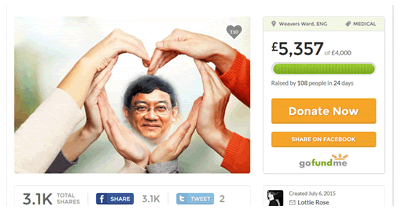 July 9th, 2015
Update From Lottie Rose:
We are pleased to tell you that Ted may be in a position to start taking his own supplements by the weekend which will come as a great relief to Ted and us all and we hope will compliment the care he is receiving whilst in hospital. Ted is still very incoherent and only just out of ICU but our collective prayers continue to lift him and each day he turns a corner.

Due to the cost of the private hospital, Ted has had to be moved to the public Petcharavej Hospital in Bangkok. We have managed to get him an air conditioned room and we are pleased to say he is stable. These rooms are at a cost of THB3,010 per night. Ted's beloved Mother has agreed to pay for the next 10 nights in the air-conditioned room for her dear Son. The alternative is a ward with a simple fan which is not suitable for his condition as a Neuro patient. Future funds raised by your kind donations will go directly towards all hospital and rehabilitation costs, of which there will be many to get him back on his feet, and we will of course share all transaction receipts for complete transparency.
July 7th, 2015
Update From Lottie Rose:
We are delighted to update that Ted is making very positive progress. Today his Neurologist has graded him in total 11 out of 15 on the GCS scale which equates to 'moderate' damage at this stage. He is still paralysed in his left side and will of course need therapy to gain movement. His speech is still incredibly limited, even though he tries very hard to speak (very Ted as we can all appreciate!)

Tomorrow (Wednesday) they will move him from the ICU to a ward now that he is stable.

He is in Bangkok's Bumrungrad International Hospital https://www.bumrungrad.com/ and his Hospital Number is #102465084. Please do bear in mind he is on a shared ward and may have limited room for flowers.


Medical Donations to Ted

Paypal
In July 2015, Earth Clinic has created a donation button for Ted's medical expenses. We have created 3 fund raising campaigns to date, with the last round ending on November 25, 2015.
ALL money received for Ted through this donation button, minus the transaction fee that PayPal collects from each transaction, has or will be wired directly to the medical clinic treating Ted.
GoFundMe Campaign
Ted's wonderful friend Lottie Rose successfully raised enough funds to cover the costs of Ted's brain surgery with leftover money to go to Dr. Torsak's clinic. You can view her fundraising efforts here and make a donation to her campaign.
Prayers and Well Wishes For Ted
Below are the wonderful prayers we received from hundreds of people around the world via Facebook, the Earth Clinic web site and by email. If you would like to send your well wishes of recovery for Ted, please submit it here and we'll post it at the top of the section below. Thank you!
--------------------------
Future Paradise from USA: Dearest Ted, Even though we have never met personally I wanted to thank you so much for helping my family and I through the years. You must truly be a loving and selfless person. You are in our thoughts and prayers. We hope you will heal soon. Looking forward to the future with hope, Bonnie
Alba from St. Louis, MI: Always in my prayers, dear brother in spirit. I pray God continue to hold you in safety, that the right people to help with your treatment be always available to you, that all anxiety and discord in your household cease. I pray for your caregivers, your mother and sister, to be the voice for you, to be the strength for you. Above all I pray for your full recovery. Your beautiful soul is so necessary to help others, God hear our prayers. In love.

Christy from University Place, Wa: Ted, may God strengthen you and heal you. We are all praying and pulling for you.

Chaz: Brother Ted, We haven't communicated for a while, but you remain in my prayers my friend. I've often said that: "if our life is not enough of a message for people to see God, then we don't have a message"... and YOUR life my friend, has a message of Hope, Love, Grace and Selflessness... and that with God,All Things are Possible, Just Believe. And I also thank God for Deirdre's diligence and love, and especially for keeping your status communicated to us all. I'm praying that God will multiply this seed for your benefit... from "little acorns, big oaks grow". YOU ARE SUCH A BLESSING! We love ya, Chaz Jaco

Julia from USA: Dear Ted, Use your God-given imagination, and you will be well. As you fall off to sleep, imagine yourself walking, running and doing the things that you currently cannot do. This will be carried to your subconscious, which (through the power that God has given it) will figure out a way to make it happen. Have no doubts that you will make a full recovery--the subconscious will pick up on any negative thoughts and will give you a negative result--it works both ways. Best wishes and many thanks for your candidiasis protocol, which has helped me so much! I'm sorry that this first donation had to be so small.

Mallav from India: Miracles do happen. May the Omnipresent Omnipotent and Omniscient Lord shower His Special Grace on Ted . Our Prayers to the Lord to do a miracle and make him healthy and fit in service of humanity. Prayers of many with love will certainly be answered.

Barbara from Bahrain: I'm so sorry to hear the news about Ted, wishing him the speediest recovery.

Reina from Los Angeles: I have just learned about Ted and am praying for a full recovery of this man with the most beautiful brain. This kind sweet humble man has delivered so many cures to so many of us that I am almost sure he is conjuring up one for himself as I write these words. We love you Ted. Godspeed.

Rachael Cecere (Facebook): Sending you love and prayers for a full recovery. I've learned so much from reading your posts on Earthclinic and am grateful for all of the info you've shared from your studies. Thank you

Kuldeep Kaur (Facebook): May God be always with you Ted and protect you from all the dangers of the world. You are always in my prayer.

Karen from Cookson, OK, USA: Wishing you a speedy recovery, dear Ted.

Nikki from QLD, Australia: Our thoughts are with you Ted. And come on people, make a small donation to help someone who has taken his own time to help thousands of people worldwide! Please be a part of Ted's recovery as he has been with all of yours!

Michelle from UK: I'm ashamed to say that I have only just heard about the wonderful Ted's health crisis - what devastating news. Why did this have to happen to such an amazing, unselfish person? I am willing you to a full recovery Ted - the world needs you more than you will ever know. Much love and respect from the UK. xxx

Dee from Tulsa, OK: I just found out about Ted's illness. This site and Ted's advice has been invaluable, and I'm so grateful. Sending lots of love and light to Ted, and wishing him a speedy recovery. Ted: Please get daily Vit. B12 shots to reverse the nerve damage!

Deneen from Kansas City, Missouri: Ted, praying that the one true God will heal you and give you peace. Thank you for all you have done to help others. Many blessings to you and yours.

Sylvia from Colorado, USA: My prayers are with you. You are a miracle of knowledge. Silvia

Rosetta: Praying...

KP: I'm so sorry to learn of Ted's illness. He turned me from sick and almost bedridden to the wellness I feel today...I know God needs him home but we need him here. Praying for you Ted and a speedy recovery..Thank you for all your time and patience in helping others. God bless you.

Richard: May God help Ted through this extreme part of his life and comfort his family, because God is Supreme and Ted will come out victorious. dear Lord please help him and by the morning may we all be embraced with your power and love,thank you dear God for listening to your humble servant, thank you for listening and I know your great power dear lord, thank you again, and let Ted know we all share his pain and and his love we hope to see him smile with us again.

Bernadette: I shall be keeping him in my prayers.

Rae Charles: Praying for Ted; he has helped so many people.

Jan: Sorry to hear about Ted, my blessing are with him and his relatives, may he have a speedy recovery to do what he does best.
Bright Blessings

Karen: Sending Ted my love & prayers!!!

Helena from London, UK: He is a wonderful soul and is in my thoughts and prayers now for a successful outcome.

Johanna: God be with him.

Ruth: Thank you so much for sharing this information.  This explains why he has been on my mind.  Blessings to Ted and sending healing through my heart to him in Bangkok. 

Mary: He is in my prayers, thank you.

Nancy: My prayers for Ted!  His posts have helped me so much over the years....please keep us posted...will keep praying..

Carol: Ted and his loved ones are in my prayers. I pray he has a speedy and complete recovery.

Pearl: We are praying for your healing in Jesus name Ted. God still does miracles even today!

Ester: Our prayers and love to Ted and family. We pray that God help him restore his health as he is a blessing to all of us.

Nancy: He's helped so many people . Now he needs our help with prayers. He has mine.

Deb: My prayers are with Ted and his angels!

Moe: Yes, He is being lifted up in the spirit for healing.

Blanca: Thank you so much for letting me know about Ted. I will definitely keep him in my prayers. He is an awesome person and I know our LORD has been working through him to help all of us.

Janet: My prayers and with him.

Ray from Lago, Nigeria: I am chanting for his speedy recovery.

Ginny: I send RECONNECTIVE HEALING and prayers.  Sincerely,  Ginni

Bimo: May the forces of healing in every element of the universe: forces of good of life renewal, caretakers of the cosmos, powers unchallengeable converge and renew Ted because he's one of them, a Father of the Earth. I cried. You heal Ted. With love heartfelt.

Karen: I am praying for him....Love Karen.

Richard: Please update us with any info and again May God give Ted from Bangkock favor and let us hear good news soon.

Mir Ahmed Ali: Ted is great, All prayers for TED who was serving ailing humanity. I PRAY for him may GOD bring him to normal healthy life, and bless him with all his blessings.

Wu Chung: Regarding Ted of Bangkok, Systemic enzymes should be good for him. Follow the link: http://www.life-enthusiast.com/enzymes-natures-clot-busters-a-4057.html. Not sure whether the link is helpful. At least, it's worth a try!
Best rgds.

Fran: Please give Ted ginger to drink, or rub on his feet the oil.

JB: My prayers are in his behalf and I'm sure the million or more people who use the site will offer their prayers as well. Please keep us updated. Thanks

Liz: Unfiltered and pure clear whole hearted prayers sent to this marvelous man and soul.

Paula from Richmond Hill, Canada: Dear Ted: I am glad you are recovering and getting better each day. I am praying for you that you get well and go home to your family. You have helped so many people and now it's our turn to help you. We love you, be strong you can do it...... Paula

Renee: I am with the rest of the EC community in wishing Ted a speedy recovery.

Jane: I will keep him in my prayers. Thanks for letting us know. God bless you all!

Lin: Sending more prayer and healing  to Ted! His help and info has helped me to understand the healing process. I wish him Godspeed!

Beth: This is just heartbreaking. I will send a donation for Ted and pray a lot for him too. Thanks for letting us know. Beth

Anonymous: Like so many others Earth Clinic and Ted have contributed life-changing remedies to me over the years. I hope no one did anything to cause Ted's issues. He has been sch a giving, loving person and my prayers are with him and all of you who are helping with his situation. Donation sent separately. Please continue to keep us posted! My prayers are going up for him!

Doreen: He has certainly helped me alot. I never said anything online, but I am always on your site for the slightest of problems and all his post on the site have been great helpers/cures. They do work. He is in my prayers. Doreen

Doris: Ted, I am so sorry for your health. Please know If I could I would cure you.Try and stay positive thru your ordeal and may GOD BLESS.

Frances from Cabarlah, Qld.: Speedy recovery, Ted. Earth Clinic fans, pls donate to help him get over this set back.

Dee from Springfield, Massachusetts: Dear Ted: Just a note to let you know there are many millions of grateful people besides me praying for your speedy recovery. My mother (who had several tia's over the years after quitting, being a former smoker) lived an additional three years, thanks to all of the wisdom given to you and imparted to earth clinic. Sincerely with prayers for your quick and complete recovery, Dee

Lmalur from UK: Wishing Ted a quick recovery. Praying and sending positive energy his way. Much love.

Doreen, from Ns, Canada: Sending a prayer for Ted to heal completely from his blood clot, and all problems to be resolved quickly and completely. Thank you so much Ted for all your information provided so willingly. May God and the angels be with you.

Manisha Chandraferi from Hong Kong: If you are an earth clinic fan, you definitely know Ted from Bangkok very well. There are 180,000 facebook fans of earth clinic, if we all donate minimum 10 $ for Ted's health fund. We can save his life. Please give your share of humanity.

Rhonda from Lakewood, California: Praying for a full recovery.

Lisa from Tyler, Tx: Blessings and white healing light sent to you, Ted. Please know that you have touched so many of our lives and we are all rallying for a rapid healing. Know that you are being prayed over during this time. I hope this brings comfort to you. ((Hugs))

Con from Jacksonville, IL: Ted, You are in my prayers for a full recovery.

Sivarama Krishna: I hope Ted will regain his health completely and sooner. I pray god to bless him long life.

Elise: Pray this blood clot dissolves & he's on the road to recovery.

Diane: Thank you for letting us know! We will keep him in our prayers....so grateful for him and to all of you at earthclinic...

Leanne: Prayers being sent.

Jan: Received your distressing news re Ted. My pleas to a higher power already dispatched.

Kathleen: Sending much positive and healing energy....

Jody: Please keep us informed. Ted is in my prayers.

Susan: My prayers and blessings are on the way.

Christian: I pray God help him to get well soon

Cindy: Praying.....

Desiree: My prayers are for Ted's recovery and I know many other members are praying for him also. Is there any other way we can assist Ted and family members? Would a contribution of money or goods/services be helpful in some way? Ted has been kind and helpful to all of us. His generosity for us can be supported by the generosity and prayers of the Earth Clinic family. With continued prayers and thoughts of healing,

Claudia: SO sorry to hear that! Prayers being lifted for his healing!

Sharon: Thank you. Please keep us updated. Prayer immediately.

Monica: So sorry to hear that! Definitely praying for a fast and full recovery.

Luis: Almighty God: You know Ted from Bangkok well. You know he is a person all his life dedicated to the service of others. Ted knew early on that true spirituality is to break the shell of the ego, out of oneself, to stand at another, while still being oneself. I ask You let him recover fully, without any sequel, so he can continue to give witness to their faith and enriching the health of all who know him from his knowledge, which is like pure gold, it comes from You. God bless Ted today and his beloved family.

Lynne: Sorry to hear that prayers sent.

Carol: Thank you for letting me know. I will pray for this precious man.

Linda: Seriously praying for him. The site earth clinic has been a source of great help to me and my family. May the buddhist gods watch over him and bring him back. We still have need of his compassion and generous contribution.

Megan: Prayers up !!

Elaine: Sending healing energies.

Arlette: Prayers and positive healing vibrations are going to Ted,,, bless him,,, and all the wonderful work and help he offered to all ,,, love and light

Sandhya: So sorry to hear that. Praying for Ted's quick recovery.

Antonio: May The lord help Ted in this time of need. God bless Ted.

Jonathan: Definitely praying. Would love to meet the guy! He seems like quite the truth loving genius.

Gail: Sending love and light to Ted for a speedy and complete recovery!! xxx

Eric: Thank you for sending this. Prayers & positive vibes going out to Ted.

Susie: We will pray for his recovery! Aloha

Colleen: Thank you for letting us know. Sending lots of prayers and healing energy to Ted--there are so many of us who love him. Blessings to Ted and everyone at Earth Clinic for all the good work you do!

Barbara: My prayers going out to Ted, wishing him the best.

Molly: I have added my prayers. Thanks for the email.

Linda: Prayers and healing sent to Ted!

Kathy: Sending pure source energy love and light to Ted. He has been so giving and thoughtful in his posts and has contributed to natural health in so many ways...

Roz: Oh no, so sorry to hear this. Sending healing light to Ted, dear Ted.

Nancy: We pray that this wonderful servant of humanity is healed in the most perfect way so that he may completely recover and continue his invaluable service. So grateful to Ted for his unselfish sharing with all who ask for his help.

Dick: I will pray for Ted's recovery. What a great man!

Charity: Dear Father In Heaven, Send angels on assingment to assist Ted in his healing from a clot. Bring divine appointments and restore him in every area of weakness and lack. Send intercessors to his side day and night. Open the heavens and provide the solution to his situation. Affect his cure by the blood of your son Jesus, Amen

Ellyn: Have read many of his comments. Our best to him and his family.

Linda: Dear Deirdre. I am so sorry to hear that news about Ted. That man has saved so many people's lives. I prayed and sent him a distance healing. If we all pray for this wonderful man I know we can make a difference. Dissolve that clot and allow his blood to flow freely. Love, Linda.

Denise: Praying!

Silvia: This is really sad news thanks for the email we will pray for his recovery.

Patty: Dear Deidre, I've added Ted to our prayer list. Peace, Rev. Patty

Kristi: Sending prayers

JY: I put her/him into prayers almighty God is able

DDH: We wish him a speedy recovery.

Jane: Praying.

Grace: Can't say I know him but prayers sent. I'm sure he will appreciate the love you guys are sending out for him. This kind of emails restores my faith in humanity, thank you. Thank you for your kindness.

Annamae: I pray for his speedy recovery.

Cynde: Praying. He has blessed my life, praying his life will be spared.

Joel: Praying! Be healed, Ted!

Melanie: Praying for Ted!! His works helped me starting 11 years ago.

Sandy: Prayers and positive thoughts for Ted.

Sutfen: I'm so sorry to hear this...Prayers and all best wishes for your recovery, Ted.

Frances: Prayers for Ted...God Be with you!

Kuldeep: My prayers are always with you Ted. We don't want to loose you, you are really a saint who has come to help others. My prayers and best wishes to Ted.

Debbie: Healing prayers heading your way Ted.

Ken: Sorry to hear this news ...Praying

Kathy: Sending pure source energy, love and light. May Ted receive triple the healing that he has provided others.

Deborah: Adonai Abba Father, Kum Arain come in, we call on You as Jehovah Rapha the Lord our healer and Jehovah Shammah the Lord our present. As we lift Ted to You, we ask You accept our prayers for him as a sweet incense to heaven. Please and thank You in Jesus name, AMEN.

Janice: PRAYING DEARLY!!!

Relly : Sending prayers for Ted!

D'Ebrar: Praying

Aledria: Praying!

Monette: May you be blessed Ted!

Diane: Praying for Ted

Karen: Prayers to Ted for a fast recovery, I read a lot of his posts.

Joanne: God Bless Ted

Michelle <><

June: Ted from Bangkok is a wonderful and wise person. Holding prayers for him and sending hugs and all good wishes for a good recovery! Please keep us updated. Thank you!

Jeanie: God bless Ted sending healing prayers up.

Kayama: Bliss Adding my prayers for Ted's health and healing!

Shari: Prayers Ted.. May the LORD light your way..AMEN.

June: So very sorry to learn of this. Ted from Bangkok

Chere: Will keep Ted in my prayers! Please keep us posted on his progress? God bless!!!

Rachelle: Light light light to Ted

Linda: Prayers and healing sent to Ted. You saved my husband's life.

Jimmy: Prayers going up for this man that has helped so many.

Susan: Blessings to this man that has helped many.

Lesley: Get well very soon Ted. Big hugs from the UK.

Rose Mary: Healing prayers for TED! Fast recovery!

Patti: Sending healing prayers to Ted.

Becky: Oh no praying for Ted to get better soon.

Cheryl: Prayers.

Deedra: Praying in agreement

Tahonni: Praying! Ted is a genius!

Donna: Praying!

Dot Constant: Sending prayers & hugs!

Maddy: Sending lots of love to Ted!!

Frank-Debie: Praying ~D

Julie : Praying for your recovery!

Shelly Sue: prayers sent

Lynn: Praying Ted

Jacqueline: Praying for Ted

Sheila: God bless Ted.

Janet: Prayers coming!

Rachel: Prayers for Ted

Karen: Prayers from Michigan

Lisa: Bless him & keep him, O Lord!

Janet: Praying for this wonderful man

Rhonda: Rub hands together ,feel the energy ,imagine it a ball of good healing energy ,send .........

Sylvia: Prayers sent.